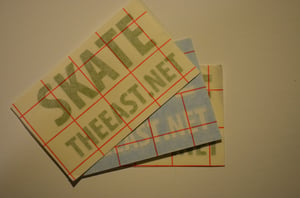 $

3.50
Die-cut vinyl sticker with the classic "Skate The East.net" block text logo. Easy to apply to most surfaces and withstands abuse and weather.
Each letter is it's own individual sticker meaning you won't get those ugly wrinkles you find with other, solid stickers.
Color is selected at random based on what we have on-hand, but always looks good ;-).
3 Pack -- Saves you $1.00 from buying individually!
Approx 2.25in x 3.5in